I have a Roomba. But you knew that.
But Roomba is starting to scare me. He's learning. And he's starting to defy me.
Tonight, I set Roomba in our living room to vacuum. The living room has two exits: one to the dining room, which I blocked off with physical objects, and one to the hallway, where I put the "virtual wall" (a small device that emits a beam that prevents Roomba from going past its path). After I set Roomba to start cleaning, I came upstairs and was working on the computer.
But I heard a curious noise. I could tell that Roomba was no longer on the carpet… I could tell he was on the hallway floor. I came downstairs and saw Roomba running down the hallway… and I also saw this (pardon the grainy image):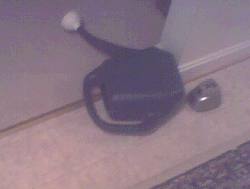 What you see on the right is the virtual wall. What you see on the left is a watering can… a watering can that used to be across the room.
Roomba moved the watering can in front of the virtual wall so he could make his escape, unfettered by the virtual wall's beam.
I am now officially scared of my robotic vacuum.
Posted in Just Plain Odd