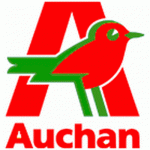 Nowadays I take stores like Super Target, which combine a full-line discount store with a grocery store, for granted. But back in the late 80s, the idea of having such a huge store was still exotic. It was so exotic, in fact, that I was introduced to the idea by a French company – Auchan.
The first and only Auchan in the Chicago area opened up in Bridgeview, a suburb south of the city. But my parents and I checked it out and shopped there infrequently; it was a good drive from our house. As a kid I remember the place being incredibly big. The non-grocery section of the store didn't seem to be the primary focus but the place felt a little more like a modern-day Meijer than anything else.
Auchan had good prices, fresh produce and bakery, and decent electronics and toys sections – you know, important stuff when you're 13.
But ultimately, they couldn't compete and left the US altogether. Dominick's, a long-established Chicago grocery chain, opened up an Omni Superstore in the Auchan space, another hypermarket. It too gave up the ghost a number of years later.
In their wake, we have Super Walmart and Super Target, both of which have demonstrated that Americans are totally open to the idea of having all of this stuff in one giant store. I guess Auchan was just a decade or two too early.
Posted in Childhood Memories, Consumer Commentary