rdio is the streaming service I currently use. I like it. It feels good. And their redesign a few months back was a solid one, making the music and the art take center stage.
Then today they rolled out a new design. And it's, uh, minimalist? I guess?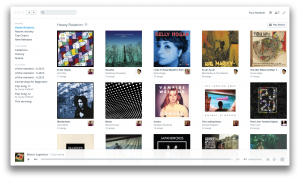 Yeah. So there's that. It's a little worrisome in part because rdio's last design rolled out in March at SXSW, and here we are with an arguably big redesign again just three months later. Functionality hasn't significantly changed, and I do appreciate minimalism, but I wonder if they've lost something here.
The new rdio feels characterless to me. There's no voice. They say:
We've done away with the many boxes, lines, and gradients — Rdio is lighter, brighter, easier on the eye. It's faster, too.
Faster is good. But I'm surprised to learn that those "many" graphical elements had no real purpose. Weird.
Posted in Consumer Commentary