I like to change my car's oil myself. For me, it's just easier and cheaper, plus I get to know the car better. Yesterday I changed the oil in my new Stratus for the first time. This process involves: a) removing the old oil filter, b) installing a new oil filter, c) draining the old oil, and d) putting in new oil. I've done it dozens of times on my old car.
But, the last oil change my car saw was at a Pennzoil quick lube (the sticker was still in the windshield when I got it.) I crawled under the car and tried unscrewing the filter. No go. Tried a few more times – nothing, not even a budge. I then took a screwdriver to it and started chipping a hole into the filter. (This is a trick my dad taught me – you can get more leverage this way.) That didn't work. I ended up getting a large hole in the filter, probably about the size of a dime or quarter, through which most of the oil drained. That was fine, but the filter was still on.
I took several tools to the filter, including a honking big adjustable wrench, pliers, a medium adjustable wrench, a small adjustable wrench, and a sure-grip jar opener. Nothing did it. This filter was installed by Hercules himself.
Eventually I got two more holes poked into the thing with the big wrench, jacked up the car for more clearance, and threw my entire weight into moving this thing. At one point I actually moved the car and not the filter. But, after two hours of battle, the filter finally moved. I got it going after another 10 minutes, and the thing was finally off.
Look at this thing.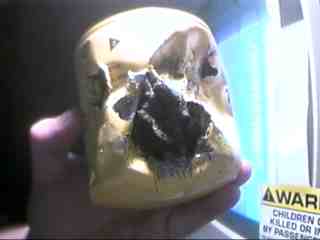 I have never, ever had to do anything like that to a filter before. Filters do not need to be that tight. Tight, yes, but not welded to the surface. (It's actually potentially problematic if the filter is too tight.) Moral: if you go to quick lube places, continue to go there, for they have the machinery to take these things off. Otherwise, don't go near 'em. -pm
Posted in Consumer Commentary