You've got to love screencaps like this one from the USPS web site (seen when using Opera 7.23):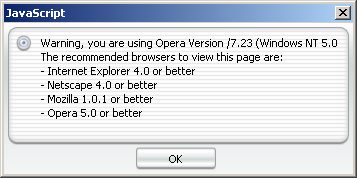 The thing is, a pop-up error screen like that (which, incidentally, pops up on every page of the site) isn't even necessary. The requirements of IE 4+, NS 4+, and Opera 5+ cover 99.999% of the browsing public (who do you know that's still using Netscape 3?) and anyone using browsers "less" than that don't deserve to be using the web.
I wrote to the USPS webmaster a week or so ago and got a canned response. The pop-up error still occurs as of this morning.
Posted in Technology