Another blast from the past for you: Yes & Know books.
These great little books used special "invisible ink" pens (white with orange caps, always) that you would use to reveal answers or play the game. I had a load of these books and they kept me occupied for hours on end. One of my favorites was Ultra Bowl: "You are the quarterback in the Ultra Bowl. Your team is behind by 3 points with one minute to go. You have the ball on your own 20 yard line and it is your job to score a touchdown."
Two Ultra Bowl scans are below: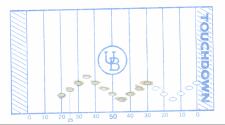 Other Yes & Know books I have particularly fond memories of: Bowling, Puzzlement, and Fleet.
I'm happy to see that the publisher is still around, and is still making them. Unfortunately, their online version isn't working. -ram
Posted in Childhood Memories