Following my recent topic on the Art of the Mix Tape, I remind you all of a wonderful, but short-lived, trend of the late-1980's: the Personics tape.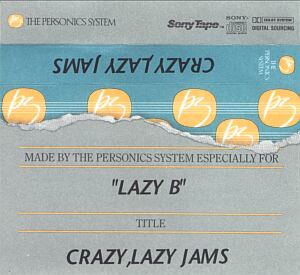 Large chains like Sam Goody had large jukebox-looking machines set up that had hundreds of known and unknown singles on them that you could listen to sounds clips of and then make a custom cassette from the ones you liked. If I remember correctly, you could get 8 songs for about $10, and this included a custom cover and laser-printed labels. Though I only made one Personics tape (pictured above), this idea was the predecessor for the multitude of custom-CD services available today.
It worked really well, as you could combine singles you really liked with songs you may never have heard before (on mine I put a song by "White Boy Mike"… huh?). The important thing was that they were affordable and it wasn't unreasonable to think a teenager would go into a store and spend the money on a custom Personics tape rather than on a full-length album. The problem with a lot of custom CD sites now is that you can expect to pay $12 plus shipping for 8 tracks.
A number of interesting sites exist that mention Sony's short-lived Personics System:
In case you're curious, here's what was on
my
Personics tape from 1990:
Side A
Break the Grip of Shame… Paris
The Originators… The Jaz and Jay-Z (way before he became a household name)
We Don't Play… Frescho & Miz
Something to Rock To.. White Boy Mike
Side B
Out of Control… Mikey D & the L.A. Posse
Freak the Funk… Stezo
Notorious… Kool Rock Jay and D.J. Slice
The Devil Made Me Do It.. Paris
-ram
Posted in Television, Movies, and Music