I realize this is really "Oreos, Part 10" if you include Paul's three Oreo-related Pings and his most recent Pings to Do. But I don't care.
A couple weeks ago Paul and his significant other sent me a card with a little girl sitting at a table. In front of her was a plate of empty Oreo tops and bottoms and one gigantic, four foot high Oreo. Little did Paul know that about the time he was buying this card, I had a very similar idea brewing in my mind.
You'll remember that I mentioned Sm'oreos a few weeks back. Well, that particular night there were three leftover oversized Oreo cookie top/bottoms. Can you see where this is going?
Yup. The other night, Huyen took a full package (minus five or six cookies) of Double-Stuf Oreos and created The Ultimate Oreo: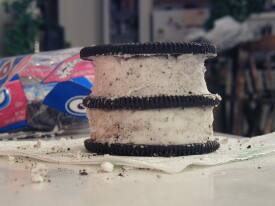 Click to enlarge to a frightening size.
Keep in mind — that is not ice cream… it's the real deal. To get a better perspective on its size, I'm providing another picture.
The nutritonal information would look something like this:
Nutrition Facts
Serving Size 1 Ultimate Oreo
Servings Per Container 1
Amount Per Serving
Calories 2000 Calories from Fat 900
% Daily Value*
Total Fat 100g &nbsp &nbsp &nbsp &nbsp 6%
Saturated Fat 20g &nbsp &nbsp &nbsp &nbsp 100%
Cholesterol 0mg &nbsp &nbsp &nbsp &nbsp 0%
Sodium 2100mg &nbsp &nbsp &nbsp &nbsp 84%
Total Carbohydrate 270g &nbsp &nbsp &nbsp &nbsp 90%
Dietary Fiber 13g &nbsp &nbsp &nbsp &nbsp 26%
Sugars 7g
Protein 13g
*Percent Daily Values are based on a 2,000-calorie diet.
-ram
Posted in Food and Beverage, The Oreo Family