I don't ride a motorcycle, but if I did, I know I wouldn't be a Harley guy. Yamaha wouldn't do it for me, either. I'm pretty sure I'd ride the Toto motorcycle, a toilet bike powered by poop. But it's so much more!
Toilet Bike Neo's tank is by no means a regular toilet – it has something to say! As it travels down the highway, it writes messages in Japanese with LED lights. It also plays music and talks. Like many of TOTO's actual toilets, the toilet bike can chat to you while you're doing your business on a variety of subjects like fortune-telling, stocks, or even the weather.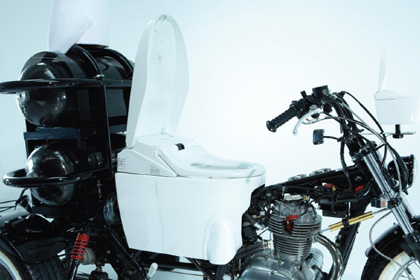 If you read Japanese, find out more about this outstanding innovation in moving toilet technology!
(Thanks to Huyen for passing this along and to her elementary school friend Jill who runs Inhabitat and made this existence of this post possible.)
Posted in Toilets