It's no secret that I enjoy photography; I even studied it for a year in school. I've come to appreciate all of the work that goes into developing and processing film, and making one's own prints. But since I also use these things called "computers", I can also appreciate instant photos from digital cameras.
I've actually owned two in the past: an Epson PhotoPC, and a Casio QV-11. Both were nice, of course, but severely limited and far too expensive for me to keep past the buyer's remorse period. But that was a number a years ago and things have improved considerably since then. I remember one of the concerns when I bought the PhotoPC was the lack of flash! It was actually optional; now even the el cheapo cameras have flashes.
I digress. The camera I settled on was the Olympus D-460 Zoom, which I got for $100 under retail at uBid.com. I am pretty much incredibly satisfied with the unit, but am dismayed at the fact that I needed to read the manual. I hate reading manuals, and you should too. But the camera's UI was nowhere near as pretty or cutesy as the Sony or HP units. However, the Olympus picks up ground in image quality. I've mostly been scuttling about with SQ (640×480) mode, which works just fine. Colors are really great, and details are superb. I have used the full 1024×768 mode on just a few images but have not been dissatisfied at all.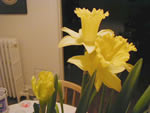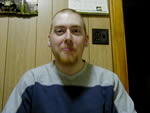 I had heard horror stories about battery usage, so I bought 8 NiMH batteries and a recharger. I'm proud to report that just two weeks ago the first set of batteries ran out of gas, and they were in the unit for a good couple of months. A huge downside is that when the batteries die, they die. When they went on me, the lens was fully extended out from the box, and thus, I had to be careful not to scratch or damage the lens. (An "automatic lens retraction" mode would be nice.)
I'm still bowled over by the SmartMedia card (8MB included – about 122 640×480 shots) and its size. To gain speed, I picked up a SmartMedia USB reader for the ol' PC, and it's great. The card is assigned a drive letter, and files can be manipulated as if they were on a real drive.
But moreso than any of the technical features, the sheer convenience of the camera is what wins my accolades. I honestly carry it with me everywhere I go, every single day, because it makes it just that convenient to snap a picture. Once you go digital, I think it'll be hard to go back to the old ways, unless you suddenly feel the urge to grab a pair of tongs and develop a picture in chemical baths. -pm
Posted in Technology